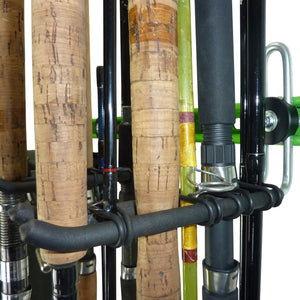 Fishing tackle hooks - extra GearHooks® for rods, reels, clothing and gear.
Sale price
$17.00
Regular price
$20.00
Extra GearHooks® are available to expand, upgrade or customise your existing GearRail and to provide the maximum storage in the minimum space.
 
If you started with a fishing gear rack with just 3 hooks, or you just want to add more rod storage, you can add more GearHooks® to take the rack to full capacity.
DP30/300, 30mm gap x 300mm long hooks are the best value and most versatile way to upgrade the rack. They are designed to take up to 5 rods but can also be used for tackles boxes, reels, nets, waders and much more. You will be able to store anything on any hook.
If you can't find exactly what you are looking for take a look at the General Purpose GearHooks® listed at the end of this collection, or get in touch - were sure to have something to help you.
Each GearHook® is Manufactured from cold formed steel with bright zinc plating to prevent corrosion and has a soft rubber coating to protect your equipment. It can be adjusted up, down and sideways to stop adjacent parts colliding and comes with a CNC machined clamp, Hex head bolt and M8 sliding nut enabling it to be fitted anywhere on the GearRail®. 

All prices are reduced by at least 20% during the launch period.
Save money. Order Today!
Make Space - Save Time - Do more!
Please note that photographs are for illustration only and may not show your product choice
---
Share this Product
---
More from this collection